Champagne
A few sips of chilled bubbly will make the festive moments of your vacation even more special. Select the champagne of your choice from our wine list and let us know the time of your arrival – your tasty Hungária or Törley champagne will await you in your room.
Choose the champagne you want from our drinks menu and enter your arrival time! You'll be greeted by a delicious Hungaria or a luscious Törley champagne when you enter the room.
Fruit bowl
A tiny surprise, a patch of lush colours in the room, pleasing to both the eyes and the palate. Allow us to prepare you and yours a refreshing fruit bowl after your travels, so that you may discover the services in the adventure bath and the children's world with new found energy.
Our fruit set-ups will instantly re-energise you after a tiring journey and get you ready to explore the water park or the children's world.
Birthday cake
We can prepare cakes in any flavour and in simple or classical design.
You can choose a simple, classic cake or a very special one in 6, 12 or 16 slice sizes, depending on the number of people celebrating.
We are not allowed to put candles or fireworks on the cake served in the room upon arrival. If you don't want to miss the candle blowing part of the celebration, ask for the cake to be served in the restaurant and you can start the celebration in full glory!
Surprise present for the children
Bring joy to your child!
Your children will be delighted to hug a smaller, plush version of Ele-Philip and Ele-Fanny until the big meeting eye to eye – or nose to trunk? We can provide plush toys as well as any other present awaiting your arrival in your room.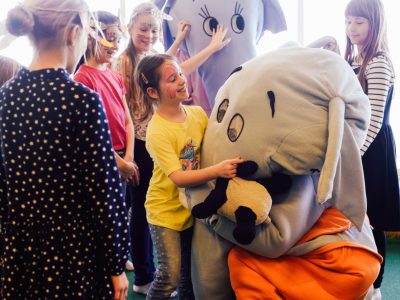 Birthday greetings with Ele-Philip, or Ele-Fanny
Birthday with an elephant to delight the little ones: ask Ele-Philip or Ele-Fanny to help you give the gift or even the cake to the celebrant!
The birthday greeting is held every morning at 9:40 at the Ele-house. The gift can be a gift you bring yourself or a souvenir purchased at the hotel.
Please contact the hotel reception desk or reservation@velencespa.com at least 3 days in advance for cake orders or the day before the reception.